genderborn, gendermade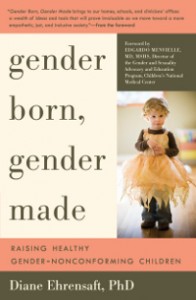 "Gender Born, Gender Made brings to our homes, schools and clinician's offices a wealth of ideas and tools that will prove invaluable as we move towards a more empathic, just and inclusive society."
—Edgardo J. Menvielle, MD, MSHS, Associate Professor of Psychiatry and Behavioral Sciences, The George Washington University, Director Gender and Sexuality Development Program, Children's National Medical Center, Washington, DC and author of the foreword to Gender Born, Gender Made.
Mommies, Daddies, Donors, Surrogates
Answering Tough Questions and Building Strong Families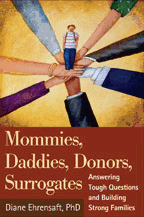 ISBN: 1593851332
Guilford Publications
Published 2005-07, 305 pages

With the spread of nontraditional families and the rise of infertility, "assisted conception" (donor insemination, egg donation, surrogate mothering or any combination of the above) is a big new fact of life. After two decades of counseling "biosocial" families, Ehrensaft, a clinical and developmental psychologist (Parenting Together ; Spoiling Childhood), wrote this honest, down-to-earth manual to help parents work through the problems. Just because people are brave enough to create nontraditional families doesn't mean they've anticipated the difficult questions those arrangements raise. Do shared genes give the biological parent more rights than the "social" parent? Is it wrong to have fantasies about sperm donors? How do you decide how much to involve the "birth other" in the "family matrix"? At what age do you tell your child his or her birth story? What do you tell them? Ehrensaft groups the issues thematically with plenty of firsthand anecdotes. An experienced therapist, she acknowledges up front many things we do that we shouldn't: social moms feeling jealous of surrogates, parents hiding the truth from their children, etc. She understands –and then nudges parents in a better direction. This is a terrifically useful book for nontraditional families and everyone (teachers, ministers, therapists) who works with them. (Aug.)
"There is much to learn from the stories Dr. Ehrensaft shares of others who have walked this path before me."
–Anne-Marie, "new technology" mother of two
"Reading [this book] is like talking with a good friend who really understands the big picture, with all of its complexities and poignancy. I am overjoyed that a book like this is finally available."
–Jane Mattes, CSW, founder of Single Mothers by Choice
"This groundbreaking book… focuses our attention where it should be –on the gift of life, and the human beings involved in creating a family. Dr. Ehrensaft tackles your medical questions, your psychological questions, and your parenting questions, all in one readable authoritative volume."

–Susan H. McDaniel, Ph.D.
Department of Family Medicine, University of Rochester
Building a Home Within: Meeting the Emotional Needs
of Children and Youth in Foster Care
Edited by Toni Vaughn Heineman, D.M.H., & Diane Ehrensaft, Ph.D.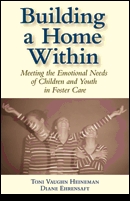 ISBN: 1557668396
Brookes Publishing Company
Published 2005, 272 pages
Spoiling Childhood: How Well-Meaning Parents
Are Giving Children Too Much —But Not What They Need
By Diane Ehrensaft, Ph.D.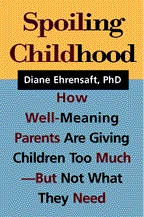 ISBN: 1572302119
Guilford Press
Published 1997, 263 pages
Book Reviews
"Here is a fresh, no-nonsense approach… [Ehrensaft's] ideas and sensitivity reflect years of practice as a clinical psychologist as well as a parent.  Her insight encourages parents to give generously of themselves, but never give themselves over to their children."
–Reviews from Parent Council
"Ehrensaft examines the stresses on families in light of the fast-track contemporary American culture in which there are no clear parenting directives… [Her approach] avoids reductive or formulaic declarations and encourages parents to consider this insightful, well-argued discussion in the context of their own parenting styles."
–Publishers Weekly
"[Readers] will be rewarded with informed, workable tactics for overcoming personal, situational, and cultural obstacles that inhibit healthy, happy family life… [A] remarkably deft exploration of childhood today."
–Booklist
Parenting Together: Men and Women Sharing the Care of Their Children
By Diane Ehrensaft, Ph.D.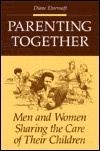 ISBN:  0252061373
University of Illinois Press
Published 1990, 288 pages
Book Reviews
"Diane Ehrensaft has written a rare and brilliant book which will give all of us new insights into ourselves, our children, and the dynamics of marriage and parenting. A lucid, readable, and inspiring book." –Lillian Rubin, author of Intimate Strangers.
"Shared parenting usually means greater involvement by the father in what traditionally is the mother's domain. What the men and women who chose shared parenting are like, why they have made such a choice, and what effects this choice has on children and on the parents, both individually and as a couple is the subject…In the end, she shows that overall, everyone–children, husband/father, wife/mother, and ultimately society as a whole–benefits from shared parenting." –John Moryl, Library Journal.